Thanks for stopping by, All About Bail Bonds is the bail bondsman Sugar Land, Texas can rely on for fast and effective service. There is no time to wait around if you are behind bars, and the same level of urgency will exist if someone that you care about is being detained. We consider ourselves to be locals helping other locals, and we do not make any judgments, because everyone is innocent until they are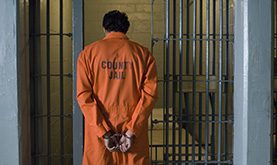 proven guilty. If you are given a pathway out of detainment, we will be poised to act swiftly to get you released from jail so that you can take a deep breath and get the appropriate legal advice.
This thriving Fort Bend county city has been growing by leaps and bounds, and is widely recognized as a very desirable place to live and work. If you are located in Four Corners, Greatwood, City Center, Herbert, Booth, or any other part of town, we are the Sugar Land, Texas bail bond resource that can and will deliver immediate results.
A Total Commitment to Our Clients
We have been able to cement our reputation in this area over the years through our sincere desire to help the people that we come into contact with, and we always go the extra mile. Our doors are open every day of the year, including holidays, and we are available around the clock. As a long standing Sugar Land, Texas bail bond resource, we have extensive experience working with all the local courts and detention facilities, so we know exactly what to do to get our clients released in a timely manner. In addition to the fast, efficient, and effective bail bond services that we provide, we also understand the fact that a legal charge can be very expensive. Ever since we started out, we have done everything possible to keep our fees low, and we will accept all major credit cards.
We Are Here to Help!
If you need a bail bond in Sugar Land, TX, we will always be ready to spring into action on your behalf. Plus, we have been doing this for a long time, so we can help you understand the next steps that you will face, and we can recommend professionals who can be of assistance to you going forward. As we have stated, we are always available, 24/7, and you can reach us by phone at 713-676-2227 or 936-703-5050.